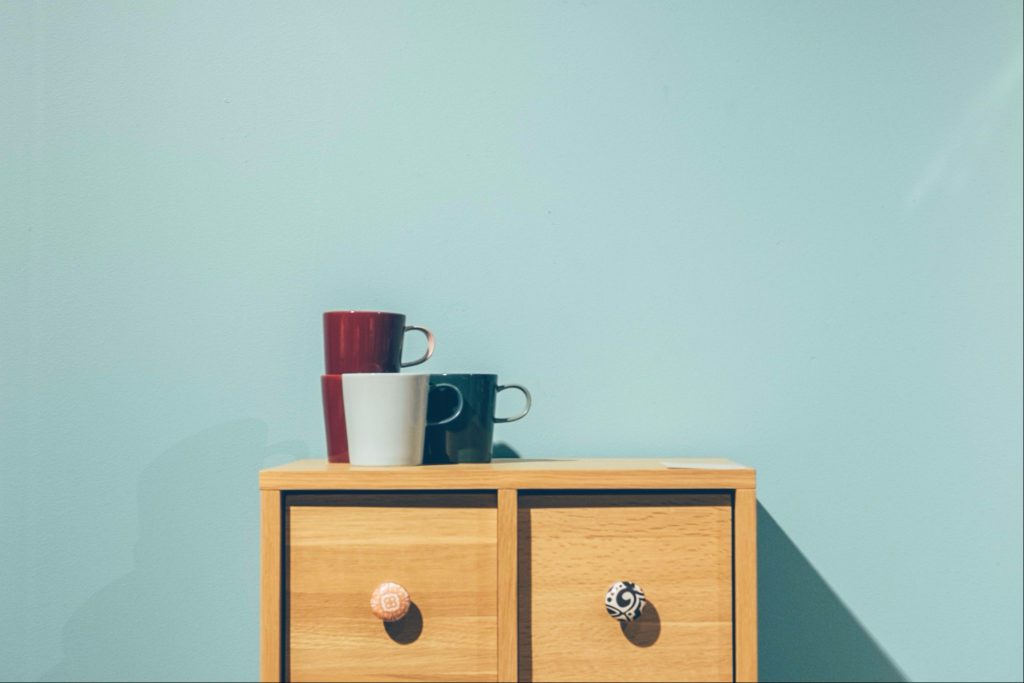 We did it. We downsized. And if I just ignore the island of boxes where the coffee table ought to be, I like our charming new space. So why do I feel so profoundly sad?
I took Marie Kondo's advice and kept only the things that spark joy. Over there on the bookcase is the photo of my dad, the college professor, the way I remember him: wearing a bow tie, with his hands resting on his hips and a broad, cigarette-stained smile. There's Mom's sunflower cookie jar. And here are the ceramic pinch-bowls formed by my kids' very own, elementary-school hands, the ones I keep repurposing as receptacles for rubber bands, pens, or toothbrushes.
Guess I need Maria Von Trapp to pay me a visit, and stat, because I'm surrounded by more than a few of my favorite things, yet they all make me want to cry. I already tried popcorn, my go-to snack, and that didn't cheer me. I want out of here, but I can't leave. Garth has the car, and I can't take a walk because the 92-degree air is thick with toxic smoke from our local forest fire. With every passing moment, this narrow space feels less like a townhouse and more like a tomb, locking me between one life and the next.
I'm not sure what all is eating at me–maybe I'm grieving change; maybe I'm more disappointed than I realized that this weekend's plans fell through, for a visit from our daughter and her family. But I do know two things: One, I could use a time out–a full stop from the sorting and decorating and reminiscing. And two, a change of music is in order, because Heart and Journey and the Eagles are bringin' me down. (Ever notice how mournful "Best of My Love" is? Super tragic.)
Propping an elbow on my desk, I rest my chin in my palm and scroll through Facebook until my face melts. Okay, now I've hit bottom. And I'm teetering on the brink of feeling sorry for myself, like a girl lost in the shadowlands, like one who has no hope. I know where I need to go. I've known for a while.
Lord, help. It's all I can think to say. But I've switched to a praise station now. And where words fail, music begins an exchange. I am yours, my heart sings. Somewhere between the lines and notes, I feel him singing back to me, a song he wrote only for me, lifting my head ever so gently, drawing me away from this tendency to tuck and fold, to hide my heart. I'm reminded who I am. Assured of who Jesus is.
I'm a child of freedom. He's my liberator.
I was a good enough reason for him to die. He paid a colossal price for my one small life.
I'm a precious child, wrapped in safety. He's a doting father.
Prayer is like coming home. Like knocking on the door of the place I most belong. My forever place.
Now I feel him pulling me through the door, inch by inch. My grief becoming something else–something loosely resembling gratitude. It's a start.
Don't all good homecomings begin with an appreciation of the past? It's history that draws us back. Through chapters that roll one into the next, within a story that has no finale, he has loved me. Held me. With him, there is no The End.
Dwelling on a hurt doesn't remedy the hurt. But dwelling on our security in Christ heals us. Sulking isn't productive. But observing our grief can be, when it draws us back to the one who designed our negative emotions for that very reason.
Why do you keep drawing us back, Lord? So I can renew you, I hear him say. So I can fill you with the fruit of righteousness. So I can give you not just some, but all grace, making you sufficient. Making you exactly enough for every good work I have planned for you. The wonderful plans I told you about. Remember?
And God is able to make all grace abound to you, so that having all sufficiency in all things at all times, you may abound in every good work. -2 Corinthians 9:8
If you've been feeling a little lost or homesick, know that I've prayed for you today. And I invite you, Come home to the Father. Pray with me:
Thank you, Father, that you do have a wonderful plan for my life. That plan does not preclude pain, sadness, or disappointment. This life wasn't meant to fit like a favorite pair of slippers. You saved me, not so I can be cozy, but so I can be holy. So I can help bring a little more light, a little more love, a little more heaven to earth. A little more home to the shadowlands.