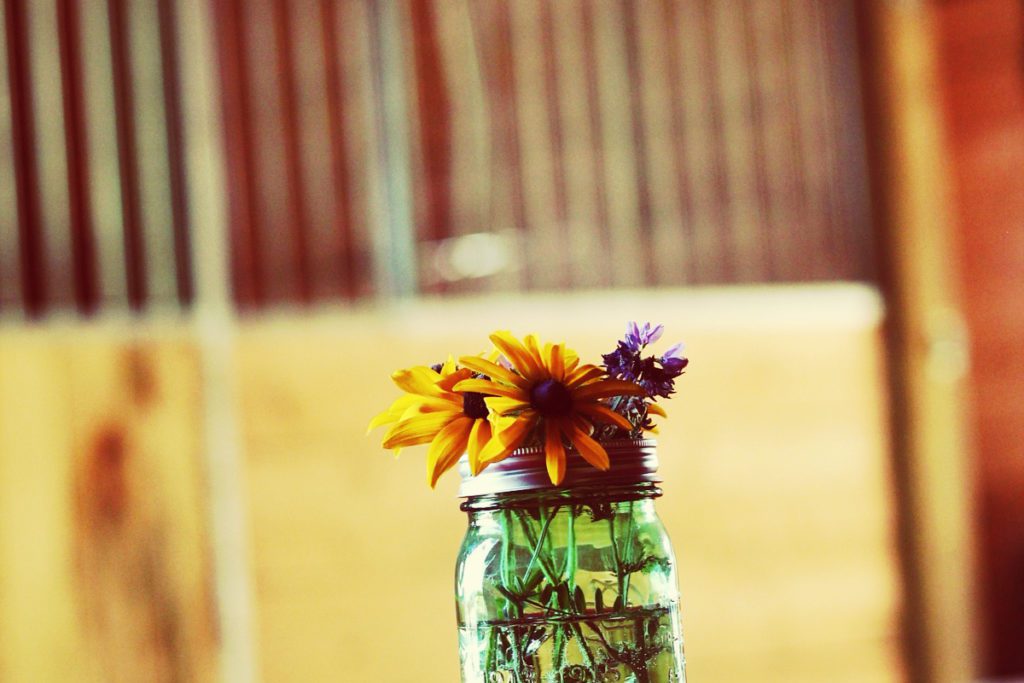 Oh, October! So much to admire, to ponder, and only a wisp of time to do either. Here's the season when creativity comes in gusts but awe strikes me dumb. Plus, I'm overly sentimental and half-crocked on chai tea lattes. I'm like the chunk of Parmesan swimming in a pot of Nana Tosello's rich Italian minestrone. If you leave it there soaking long enough, maybe it will add something.
Anyway, seventeen chais later, I managed to complete a poem. Actually, two. The one I share today is multi-layered. If, like me, you sense you're in the fall season of life, you'll get my meaning. One reason I'm happy to be fifty-five, rather than thirty-five years old, is that I'm more okay now with life's contrasting colors. Birth and death. Love and heartache. Mercy and evil. Joy and suffering.
I used to work side-by-side with a woman who, when things went bad, would always say, It is what it is. But someday, it will be what it was. It'll be how God designed things to be. And not just for a season; for good.
Now that's worth pondering.
Meanwhile, I prepare. Just as, every October, squirrels store up and pioneer women pickle, I'm focusing the fall season of my earthly life on preparing for my winter. For weakness and loss and death . . . even my own. Winter approaches, one hour at a time, almost undetectable. This isn't morbid; it's marvelous! It doesn't have to be bitter, and I don't have to be anxious. Cuz I'm a chipmunk—with the fat cheeks to prove it.
To you ladies with summer gardens now waning, and cupboards now brimming with filled mason jars, I toast you (*lifts her chai*). After two failed attempts, I've given up the dream. I was too chicken to eat my own sauerkraut, and I'm still finding remnants of splashed tomato sauce on my small appliances—two years later. That's okay. It is what it is.
But for decades, I've been canning hope by the jar-full. Contents distilled through time and experience, often painfully. Things I've tasted and seen that proved the Lord's goodness. Yep, I've got a pantry lined with air-tight promises from the One who takes covenant seriously. And I'm still stocking shelves. Sealing and labeling my savory cache for times of need that are no doubt coming. Knowing too that an eternal Spring lies on the other side, when all that's so obviously wrong will be made right.
So can you. And we're meant to share our bounty with each other.
Recently I listened to Tim Keller's sermon, "New Heaven and New Earth." I found it refreshing, since my spirit never resonated with the idea that Heaven is located in some alternative place. Scripture seems clear that one day Heaven comes down. Under Jesus' rule, Creation as we now know it will be restored to perfection. This is the best kind of hope, the hopiest hope for those of us smitten with the hushing sound of ocean waves folding and the smell of pine trees after a rain, and, well, Autumn. Those who yearn to witness all the uniquely beautiful corners of Earth but lack the years and the travel budget.
Keller simply states, "The biblical view of Heaven is that Heaven is the healing of this world."
Thank God. Speaking of this hope, notice how many times Paul uses the word hope in this section of Romans 8:
I consider that our present sufferings are not worth comparing with the glory that will be revealed in us. For the creation waits in eager expectation for the children of God to be revealed. For the creation was subjected to frustration, not by its own choice, but by the will of the one who subjected it, in hope that the creation itself will be liberated from its bondage to decay and brought into the freedom and glory of the children of God.

We know that the whole creation has been groaning as in the pains of childbirth right up to the present time. Not only so, but we ourselves, who have the firstfruits of the Spirit, groan inwardly as we wait eagerly for our adoption to sonship, the redemption of our bodies. For in this hope we were saved. But hope that is seen is no hope at all. Who hopes for what they already have? But if we hope for what we do not yet have, we wait for it patiently.
Let's can that.
October's ending. Winter's coming.
Here comes the season when many of us are especially tempted to self-comfort: Drink more wine. Spend more money. Hide behind over-busy holiday schedules. Bust our buns to make sure everything looks pretty on the outside. Fold in on ourselves.
Let's not. Let's instead use our gift of time wisely. Setting our hope on things above, giving comfort to those below. If the future frightens you, or winter holds memories of loss, make a pre-decision not to numb out. Stop pretending. Ask for help. Join a community of believers, or get real with the one you have. Seek God in prayer. He promises to comfort and renew you. Why would he do that? Because there's a world of hurting people desperate for a glimpse of him. And he picked you and me for the job.
When we focus on the reality of heaven, we can live out 2 Corinthians 1:2–4, extending to others the comfort with which we ourselves have been comforted. We're free to join the saints who've cranked open their jars of hope and loved fiercely, even laying down their lives. This winter, we can bring a tiny bit of heaven down.
When we focus on heaven, we can extend to others the same hope we take comfort in.
Click To Tweet
Properly understood, it's the most heavenly minded people who are the most earthly good. -Tim Keller
The Visitor
She arrives,
a Gibson Girl
in blazing curls
robust and sure.
A show-stopping,
got-the-town-talking
ruby kiss.
Nature's tryst.
Nana puts on copper kettle,
woodstoves glow, old hounds settle.
See there now, her auburn flush
her Honeycrisp, her footstep crunch.
So fire up your banjo licks,
surrender to the pumpkin blitz.
Drape yourself in shawl with fringe,
embrace your melancholy twinge.
For slyly does that snowline creep
over flinty, shrouded peaks,
as steady rolls the school-bus fleet
up and down confettied streets.
And honking go those geese in skein.
Already Fall's a dying flame.
Til on a puff of chimney smoke—
once every crimson limb's uncloaked—
on spindly legs, with icy breath,
now carelessly departs our guest.
Our bonny lands in disarray,
we're left to brave that frigid day.
But having gathered as for Fall,
we, ready, offer comfort all,
and fashion hope a place to stay
til woodland creatures deign to play.
When, hearing music we remember
rising to our Garden Mender,
we'll dance across the warming earth
and revel in its bold rebirth.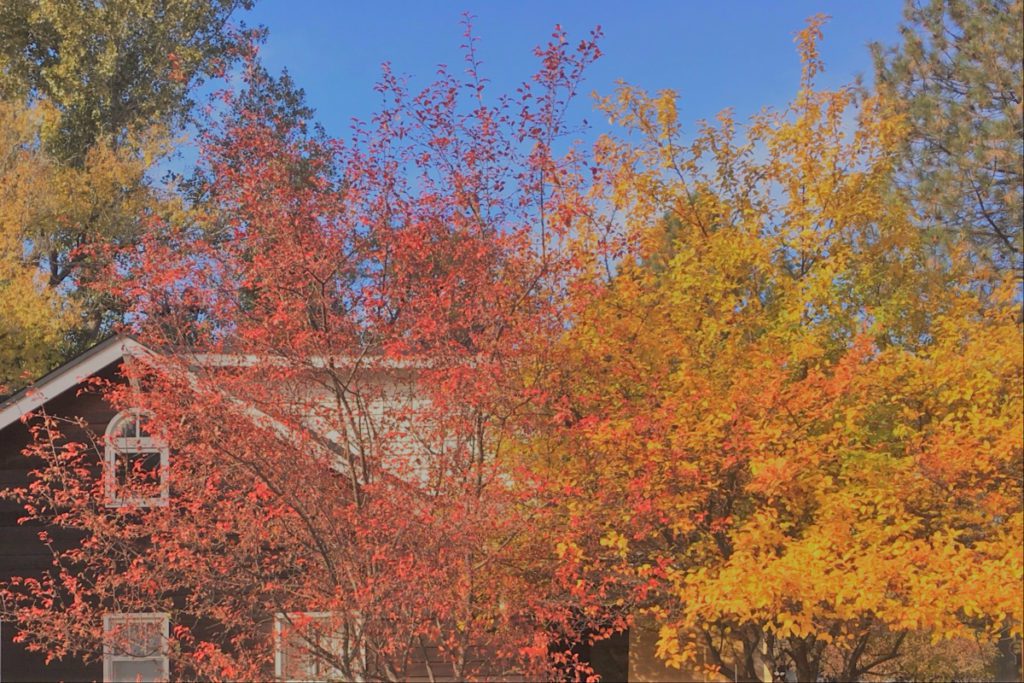 Okay, now it's your turn. What emotions or behaviors do Fall or Winter bring on for you? Or just say hello or Amen. Know that when you leave a comment, it becomes part of my joy stash.
Today I'm linking up with Holley Gerth.