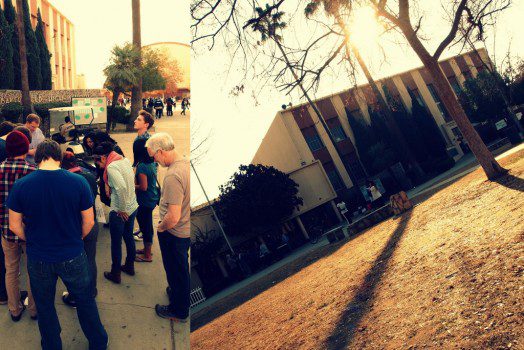 Guess you could call it a pray-cation. We drove twelve hours to Bakersfield to eavesdrop on what the California School Project ministry looks like up close. On the day we rolled into town, California's governor was preparing to formally declare the state in a drought emergency. The region is parched, on the brink of economic disaster.
Meanwhile the CSP team and Christian student leaders from five high schools were preparing for a county-wide gospel deluge on public school campuses. Hold that thought.
Now rewind to three years ago, January of 2011, when our then-21-year-old daughter, Marissa, made a last-second decision to tag along on the original CSP outreach trip to the Bakersfield area. One of the leaders of that team was a Biola University boy with soft brown eyes named Ollie.
Today Marissa and that soft-eyed boy are known to the world as Mr. and Mrs. They're also CSP staffers, invested in the mission of CSP (to recruit and train university students to coach and mentor California high school students to reach their campuses for Christ). So much so, they recruited our son, Sean.
Sean's now the student director for the Biola chapter. You can imagine how natural it's been for Garth and I, as parents, to support CSP's ministry however we can, knowing our kids are so invested.
Now back to this week.
We couldn't wait to experience CSP from the front lines. At the Kick-off Event, we got to hear bright-faced high school students from 5 schools revealing their plans for the week: daily rallies with guest speakers or musical guests. Got to pray over them. As Ollie gave them ideas about how to engage their peers in meaningful conversations about faith, I watched our 15-year-old daughter–wide-eyed, taking it all in.
As were we.
Monday we watched over a hundred students file into the gym at Independence High during their lunch break. A spoken-word artist approached the mic and rhythmically related how God has been redeeming his once-broken life. It was raw. I could sense thirsty spirits leaning in, as to a fountain, for truth about who and why they are. The gym emptied, then refilled during the next lunch period with another surge of students.
Public school students being given the opportunity to fill their spiritual Nalgene bottles with Living Water? Remarkable.
The water I give him will become in him a spring of water welling up to eternal life.  -Jesus
Over the week, there would be more rallies, attracting thousands of thirsty students–some sipping, some gulping. But we had to head home. Traveling north through the dry hills and creek beds, we got word that over 130 students decided to become followers of Jesus on that day alone.
Back at my work desk, I still felt saturated in the miraculous. A serene hush hung over my day as I answered e-mails and crossed things off my task list. Finally, I had such a strong sense of expectancy, I asked Sean for an update.
He texted back, excited that another large number of students had just responded to the life-saving message of the gospel.
Open the skies, Lord.
It may seem like we're just doing this club thing as a Christian group with rallies and then it's over, but really, these little things we do are making an eternal mark that will never change. And it's the best thing that we can be doing with our life.  -Cedric, Centennial High School student