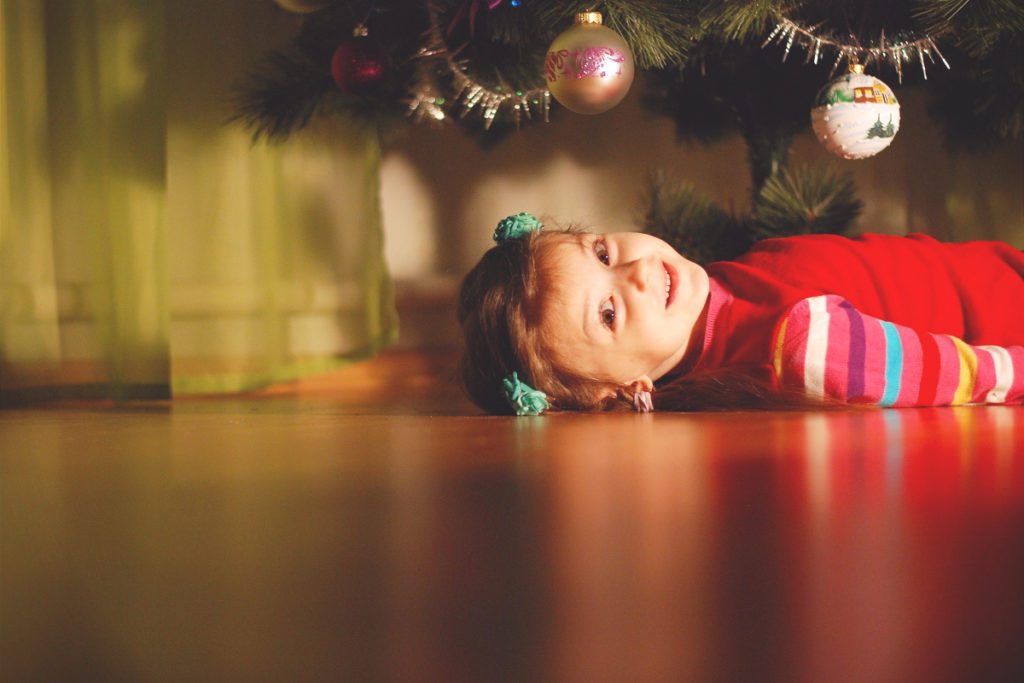 Five days before Christmas, I sat in a booth with a marble table, swallowing a bite of mint-chip ice cream I'd barely tasted. "Okay," I said. "Let's schedule it."
Garth's eyes danced. "We're gonna have a baby tomorrow?"
I smiled. "We're gonna have a baby tomorrow."
We'd been huddled in our favorite ice cream parlour ever since leaving the obstetrician's office. Dipping long spoons into a shared banana split, weighing what the doctor had proposed: inducing labor.
Our little boy or girl had already grown to a healthy delivery size. In fact, our OB suggested that each day we waited might diminish my chances of a natural birth. Ack. Also, the baby's due date loomed on December 25th. Wouldn't it be better to avoid a Christmas birthday? Plus, our trusted doc planned to depart the country for the holidays. Did we want some unknown physician to greet our first child?
We'd readied the nursery, decked the halls, wrapped the gifts. Couldn't we just unwrap our most anticipated present already? One more factor: Forty new pounds. I felt big as a house.
Expectant, yes. Cheerful, not so much.
Of course, it wasn't like I had to travel on a donkey's back and sleep in a stinky barn . . .
To a waiting world, he came.
In Scripture, waiting in faith always leads to blessing and strength.
Often the Israelites ran ahead of God in their decision-making. Through the prophet Isaiah, the Lord warned them they were missing the path to victory and peace. "In quietness and trust is your strength," he said.
Contrast that with a betrothed virgin named Mary, who took an angel at his word. Her cousin Elizabeth, infused with God's Spirit, sang over her, "Blessed is she who has believed that the Lord would fulfill his promises to her!" (Luke 1:46)
Advent means "coming," and that promise offers a holy antidote to our angst and impatience. Just when we need it most, during the do-more, buy-more, neon-lit weeks leading up to Christmas Day, Advent whispers . . .
Christ is coming. Joy is on its way.
So drop your cares. Take a breath. Spread a blanket in the Bethlehem dust.
Watch, with cheerful expectancy, as the stars appear on that night divine! One, brighter than all, pulses with excitement above a rough-hewn stable. Turn your gaze to the hills! Under twilight's last glow, wide-eyed shepherds descend. Kings and paupers make their way.
An age-old promise is about to be fulfilled in the unlikeliest way.
A helpless babe will become a faultless human. A homeless savior will make his home in our hearts. A humble sacrifice will save the world.
To a waiting world, he will return.
Despite our banana-split decision and the steady dripping of Pitocin into my veins, baby Marissa came when she came—not on the following day, but two harrowing days later. Not when we planned it, nor on her due date. Delivered by a doctor we'd never met. Still, our rookie mistake and all memory of tedious labor faded the moment I snuggled her tiny, warm body.
Sometimes a miracle looks a lot like a bare-naked newborn.
Sometimes Christmas feels more like labor and delivery than comfort and joy.
Sometimes we get so eager to meet our own and others' great expectations, we miss blessings. We lose strength.
I know. It's impossible to be perky and positive all the time. Again today, we need a savior.
What forty-pound burden have you picked up over the course of the year? Your kids' salvation? An adult child's troubled marriage? Your parents' declining health? Or maybe your spouse's contentment? Friend, you can't save yourself or anyone else. But Jesus can. It's why he came.
Resting in that truth, you can know victory and peace this December. In quietness and trust, you're more than equal to the demands of the season. And better days are coming.
In quietness and trust, you're more than equal to the demands of the season.
Click To Tweet
Today, may Elizabeth's song be for you:
Blessed is she who has believed that the Lord would fulfill his promises to her!
In the fullness of time, a waiting world will gather to adore him always. And you and I will sing along with Mary,
The Mighty One has done great things for me—holy is his name. -Luke 1:46–49
I wish you a merry, simple Christmas!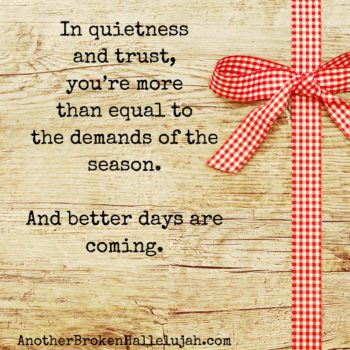 This is the Part Two in a new series of Advent posts, "Simple Advent, Simple Christmas." In case you missed it, here's a link to the first. To receive future posts, be sure to sign up for email updates. I'll never share your information with others; I care about your privacy.
Today I'm linking up with Holley Gerth (author of You're Already Amazing and Fierce Hearted).