The following post received the Oregon Christian Writers 2016 Cascade Award for Published Article or Blog Post.
When life feels uncertain, I'm drawn to the pinnacles and edges of the earth. To mountaintops and seashores. And I think I know why. If you're feeling like me, barely hanging on by grossly neglected fingernails, I hope you'll read on.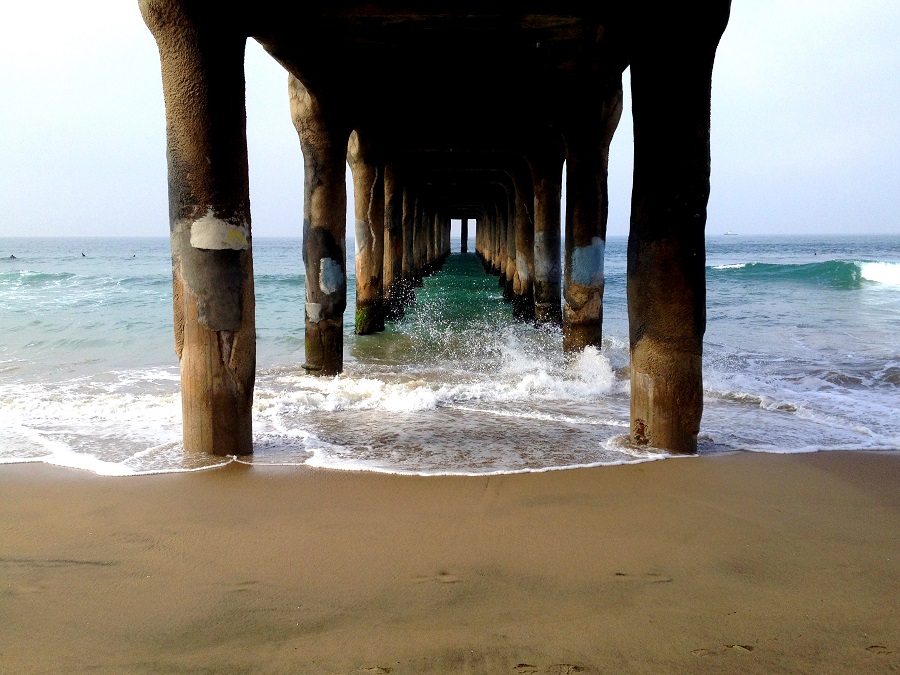 Our family's riding out a storm.
Back in late fall, a chronic illness descended on our teen daughter. It wrapped its mean, mysterious arms around her, flinging us into one of those life-interrupting, fear-inducing, plan-thwarting life seasons.
Until she gives me the green light to write about her condition, I won't go into needless detail. In a nutshell, she has to do school from home while she mends, and we don't know how long that might take. As parents, we've been tasked with tracking her visible symptoms while she tracks the inner ones. We watch for patterns. So I carry a notepad.
Doctors say there's every reason to hope. God says there's no reason to despair.
Daily I stiff-arm despair. I tell it, "Talk to the hand!" But recently I was wearying. I knew I needed to literally step out of our four walls to see things from a new angle.
In fact, we all craved a change of scenery, and heck, gas prices were down! So we hit the road and landed at the ocean.
By the pier at Manhattan Beach, we stood watching waves rise and fold—together, yet alone with our separate thoughts. Surfers jockeyed for position. A father and son cast fishing lines off the pier. A pelican flew over. Parents staked out sections of sandy turf, hoisted umbrellas and scolded kids. I sensed we were all collectively waiting for something.
Me, I waited for the fog to burn off. And I hoped for a personal message of refreshment from God to glide onshore like the seafoam around my toes. I don't expect a letter in a bottle, Lord. But hey, at this point I'd settle for a drop of sunshine.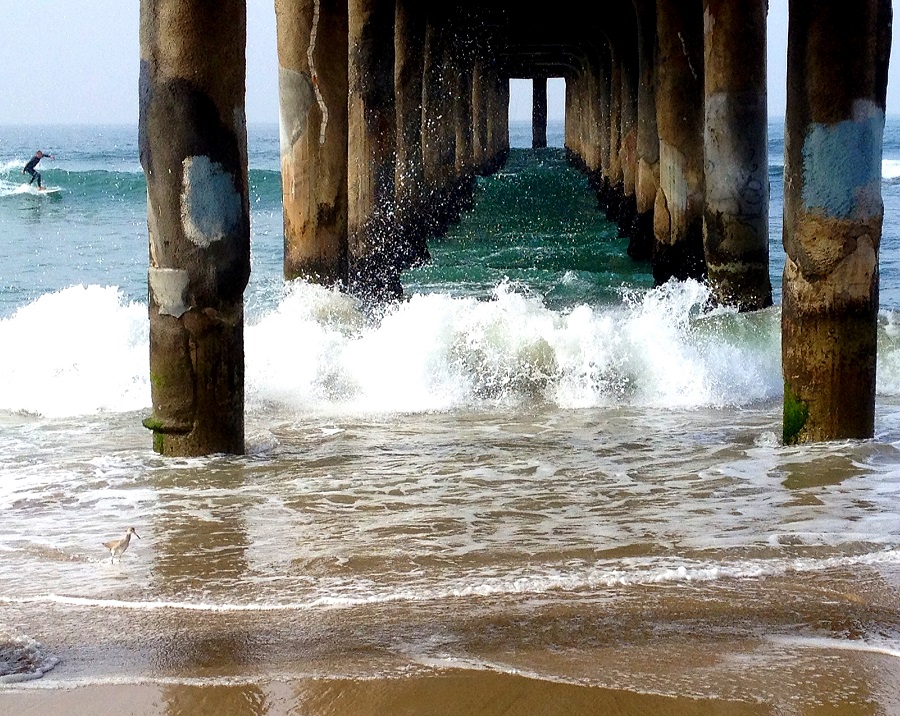 Bits of shells peppered the wet sand. I picked up a long, smooth pebble embedded with a fossilized shell and ran my fingers over it. Grit and force and time had erased its edges, leaving it cool and silky to the touch—lovely and admirable.
Waves folded, glassy and green as those old Coca-Cola bottles, lapping the pier footings at seemingly random intervals. Some crashed, spraying water wildly; others calmly licked at the wood. I stood, mesmerized by a sense of rhythm beyond my understanding. A peace and steadiness that spoke of order behind the chaos.
After a while, warmth crawled over my shoulder. A patch of the sky was now clear and blue. The sun, though hidden, had been dissolving the fog, one microscopic dew drop at a time.
I didn't find answers at the edge of the world. I found I didn't require them.
Wherever our shifting sands meet the roar of certainty, whenever our questions are met with a knowing, fears dissolve.
A change of perspective doesn't always necessitate leaving town, but it does mean transcending the circumstances suffocating us. Margaret Feinberg calls it fighting back with joy. And Laura Boggess writes in Playdates With God,
When my spirit grows tired and my heart drags on the ground behind—isn't it only natural to seek adventure? . . . With God, I don't need to travel abroad. When I step out in faith—when I go to a new place, try a new activity, see something old with new eyes—time is savored. It's not another culture, but it's different to me. I pray for new eyes. I pray for God-eyes. 
Maybe you can't get out of Dodge just now. But maybe it's time to accept your sweet friend's longstanding offer of help. Let her watch your kids for an hour or two while you park down a secluded road, pray, and listen to music.
Take sanctuary in a teahouse with a new book. Meet a friend for coffee. Wander around an art gallery. Write a poem.
For a long time after my mom was widowed, she would drive into the redwoods once a week and listen to a broadcasted sermon. I wish you'd known her. Life's grit and force sure softened her over time. She was as lovely and admirable as they come.
Next time hopelessness rises like an urgent tide from your belly to your chest, next time you're tempted to despair, change up your scenery. Then pay close attention.
Even better, spend time afterward reflecting on what God showed you. Tell someone what you discovered, or journal it. Hope gets down in your pores when you testify to it. It becomes the skin you wear.
By the way, I've decided if I have to carry around a special stinkin' notepad to log discouraging symptoms, you better believe I'm going to carry another one. I call this new one my Encouragement Log. It's helping me pay attention. Hallelujah!