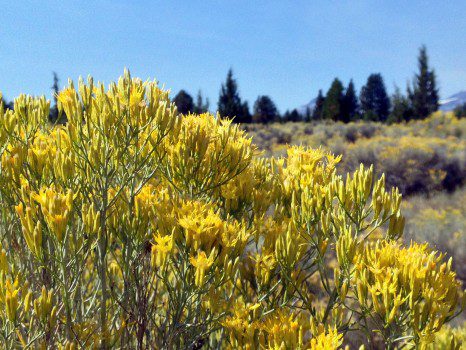 In September, my high desert world turns all golden. It starts down low, as the native grasses go to straw. Then seemingly overnight, yellow tips appear on the rabbitbrush that superabounds in our neck of the woods. And now, twice a day—at seven in the morning and again at 3:30—a school bus grinds to a stop out front, marking the most productive part of my day like big, yellow bookends.
It feels like back-to-school time is not just for the kids. For me, fall is packed with possibilities, like a fresh box of yellow #2 pencils waiting to be sharpened and put to good use. Time to empty the backpack of my life, turn it upside down and shake out the crumbs, then repack it thoughtfully with only the things that fit this season of my life.
That's what I've been doing lately—bowing out of old assignments I no longer feel called to, and scrutinizing each new opportunity. Oh, and praying for wisdom.
I need to constantly check my motives, because my desire to be productive and my disease to please like to gang up on me. My default setting is to always have something to show for my time that others approve of.
Hi, I'm Kit. I'm high functioning. Do you like my cute, overstuffed backpack? Don't all these things inside make me look clever?
I've already made some hard calls this month, but I knew in my heart they were good calls. But that ushered in a sense of panic, because it turns out that an empty-ish backpack feels so light it's unnerving! Like if I don't throw some big rocks in there pronto, I'm going to float up and away. So I teeter. Do I blurt out a spazzy, not-well-thought-out yes to the first shiny opportunities that request passage in my relatively roomy knapsack? Or worse, do I stay stuck here, paralyzed by the fear of choosing wrong?
Suddenly I'm back in the third grade, standing in front of a display of lunch boxes while my mom grows increasingly impatient. I'm trying to choose between the blackwatch plaid one (too serious?) and the one with The Banana Splits (too immature?). You see my dilemma. Frustrated, Mom goes off to shop for awhile, only to come back and find me still wavering. Frozen in fear of making the lesser choice.
I got a good word from Lysa TerKeurst's new book The Best Yes. She reminds us that we don't need to stay stuck, because even when we don't choose well, "God can still use well." Also, there's no such thing as a perfect decision. Life is not a pop quiz, and we're not being graded. What matters to God is that we are pursuing a deeper level of trust in him.
Without faith, it's impossible to please God. – Hebrews 11:6
I'm also guided by this: I need to leave margins, so I can say yes to the super-awesome things that come along. The things I think God is specifically calling Kit to. And if a thing requires more trust? Yes, I might want to especially go there.
Sometimes the things you do will please others (win!). Other times you may only please God. And you and he will privately share in the significance of your little step of faith, which everyone else might consider unremarkable.
I love how the book of James shows the connection between wisdom and faith:
If any of you lacks wisdom, let him ask God, who gives generously to all without reproach, and it will be given him. But let him ask in faith, with no doubting. For the one who doubts is like a wave of the sea that is driven and tossed by the wind.  –James 1:5-6
What scares you more: The fear of saying yes to the wrong thing and disappointing yourself, or the fear of disappointing others?