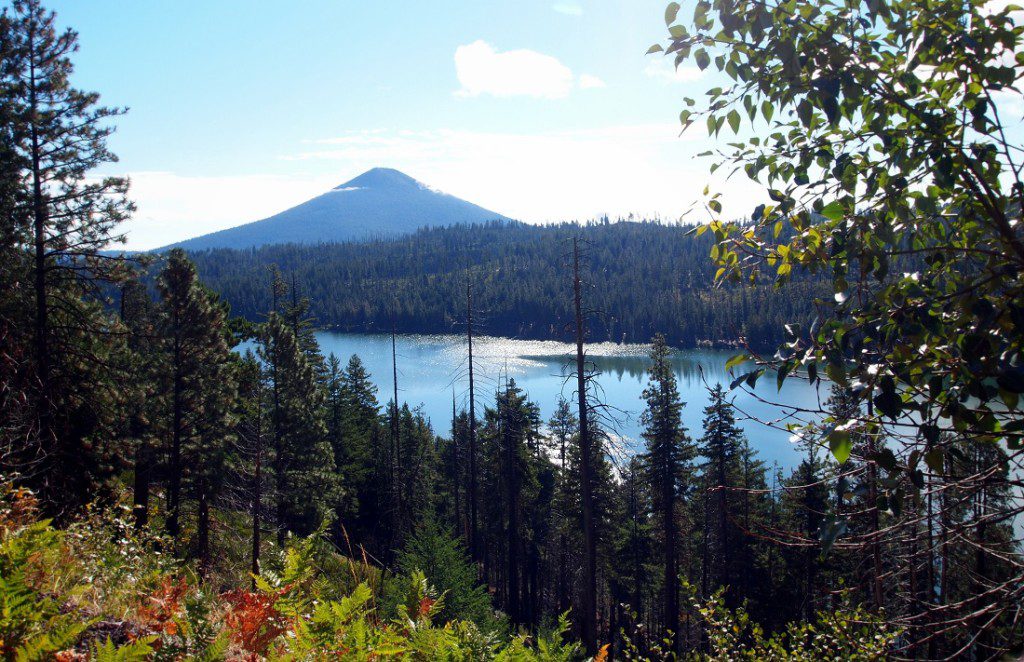 In Sweet Home Alabama, young Melanie and Jake stand on the beach under stormy skies.
She asks, "Why'd you wanna marry me for, anyhow?"
Jake says, "So I can kiss you anytime I want." 
I drove ten minutes for this lake view. And it's free. And it's here every day, even on weekdays. Like today.
I awoke to blue skies, made coffee, skipped breakfast, grabbed my camera, and merged onto the two-lane highway lined with pine trees that's always right around the corner.
Now evergreens surround me, reaching to the sky from a carpet of gold and amber ferns. The rocky knob on top of Mt. Washington peeks out above a fluffy white scarf of clouds. The lake water shines clear and aqua, a flawless mirror reflecting the morning sun.
I breathe. I admire. Snap some images. Something warm and satisfying wells up inside me. Then I jump back in behind the wheel, jazzed to start my day. Perfectly calibrated.
Why don't I start and finish every day this way? It's here for the taking. Every morning, he waits—my creator, my father, my friend.
"Experience my love," he calls.
"Fill up your joy-tank with my presence and beauty."
How often I miss this magic, forgetting where soul-deep joy begins and ends.
Our desires are a mingled mess, aren't they? A lot of the things we strive for have little to do with what truly satisfies. We content ourselves to kneel in grime, peeling mucky pennies off the ground, while true riches are extended to us on evergreen branches of grace.
When I align my desires with God's desire that I enjoy him . . .
Bliss is built in. Any time I want.
Like Jake and Melanie's hope. Only more sure.