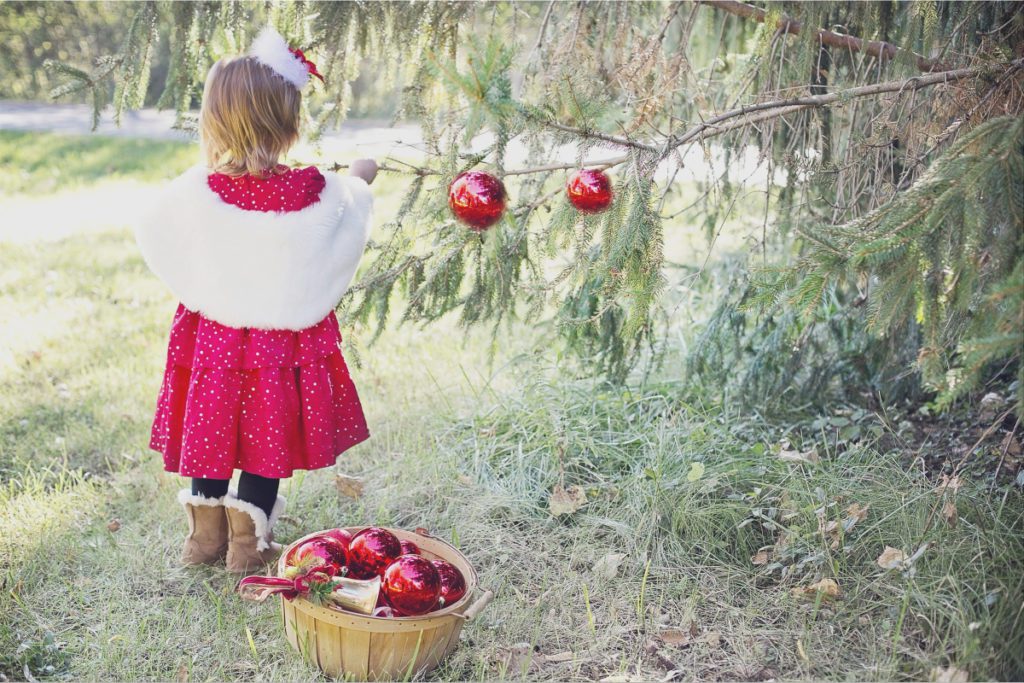 If you're reading this, chances are you're already observing Advent, even if you're not sure what Advent is.
In the 1960s, kids like me growing up near Pacific Grove, California had something major to anticipate in addition to Christmas Day. We didn't have snow, but we had Candy Cane Lane. Every year, my parents chose a December evening to pack my siblings and I into our Renault. I imagine that I, in turn, invited my well-loved Raggedy Ann doll along, and that as our car crept through the neighborhood famous for its state-of-the-art holiday displays, my eyes matched the intensity of hers.
In those days, we didn't have Home Depot purveying inflatable lawn decorations; we had the parent or grandparent next door, holed up in a garage with plywood, jigsaw, and paint, spraying sawdust in the name of Christmas joy. So cruising past yards adorned with one-dimensional cutouts of our favorite characters surpassed even root beer floats at the local A & W. Jolly Santas perched atop chimneys, the Grinch threatened Whoville, and Charlie Brown and friends gathered around a sad, little wannabe Christmas tree.
Sometimes lights even blinked.
Still, my heart was drawn in a different way to scenes of a robed mother and father, gazing with tenderness at an infant in a manger. It brought to mind the mantle-sized version decorating our home, which I noticed my parents handled with great care. Something about that baby in the spotlight on a front lawn brought me my first experience of wonder.
Perhaps, even a three-year-old can distinguish between entertainment and awe.
As a grownup, I never paid a lot of heed to the season of Advent. Sure, when the kids were little and prone to adore the fat, bearded guy in the red suit, I'd offer those cutesy Advent calendars. We'd read age-appropriate devotions after dinner. But at the time, I was more concerned with nurturing their hearts toward the Christ in Christmas, than mine. After all, I already knew the deeper meaning of Christmas.
Didn't I?
After yet another year of adulting, I usually arrived at the threshold of my cherished holiday burned out and broke, wondering how I got here again so soon. Christmas had its joys, but I came to it distracted. Overwhelmed. Half-hearted. Often by the time December 25 arrived, I was ready to be on the other side of the holiday season.
Lately though, I look forward to Advent, and I take more away from it every year. That is, now that I know it's not just another thing to check off my December to-do list. Quite the opposite. The more tumultuous the year, the greater the healing it offers.
Just What is Advent?
Because Advent calendars begin on December 1, for a long time I wasn't even aware that the length of Advent varies each year. Traditionally, it starts the fourth Sunday before Christmas and ends on December 24th. So this year, it begins December 3 and lasts twenty-two days.
While its origin is ancient, dating back at least to the fifth century (some even posit the apostle Peter started it), Advent's objective is timeless. It offers a stretch of days to prepare our hearts for Christmas. But what does that mean in practice today? The answer, I think, is kind of vague and totally personal.
You and I know all too well what it isn't. It's not skidding to a halt before the manger on December 25. It's not trying to sprinkle holy anticipation over a soul full of dread in a season of chaos. What Advent is not: Trying to sprinkle holy anticipation over a soul full of dread in a season of chaos. Click To Tweet
A Simple Christmas
Like you, I crave a simple, meaningful Christmas. I want to admire and reflect God's glory, his world-changing beam of hope revealed in Jesus Christ. I can't do that with a cloudy mirror.
Advent means coming. So it's anything that helps us take our foot off the pedal, to consider the past and future coming of Christ. Zooming our heart's lens on past graces and future hope renews our perspective like nothing else. It restores our peace.
When it comes to Christmastime activities, it's the spirit in which we do them. If decorating your mantel, blasting Pentatonix, or frosting sugar cookies readies your spirit to celebrate Jesus' birth, you're already observing Advent. You can decorate with lights to satisfy the kids or the neighbors or your own expectations, or you can do it to honor Jesus as the light of the world.
Advent is not another box to be checked or test to be passed. It's a gentle aligning of your spirit, to receive afresh the greatest news in all of history. Advent is anytime you recognize Jesus' birth as an out-of-the box event that means something inestimable for you. Advent is anytime you recognize Jesus' birth as an out-of-the box event that means something inestimable for you. Click To Tweet
It's a struggling family with zero budget for Christmas, making a list of ways God revealed his faithfulness this year.
It's a harried woman parked in a van on the outskirts of a Target parking lot. While kids nap in their car seats, she's praying Psalm 139. Search me, O God, and know my heart; test me and know my anxious thoughts. Point out anything in me that offends you, and lead me along the path of everlasting life . . .
It's me, struggling to find a few uninterrupted hours to pen this post (because Advent begins today after all), choosing to surrender my will to the one whose glory I write for.
It's you, reading this because you, too, long for a simple, meaningful Christmas.
It's a slow-moving car on a mild December evening, with the windows rolled down. And a little girl with salt air in her nose, captivated by a plywood effigy of the God-child, beginning to make her heart his home.
Hallelujah!
This is the first in a new series of hope-infused Advent posts. To follow the series and receive future posts, be sure to sign up for email updates. I'll never share your information with others; I care about your privacy.
Today I'm linking up with these writers of hope: Jennifer Dukes Lee (The Happiness Project), and Holley Gerth (Fierce Hearted).