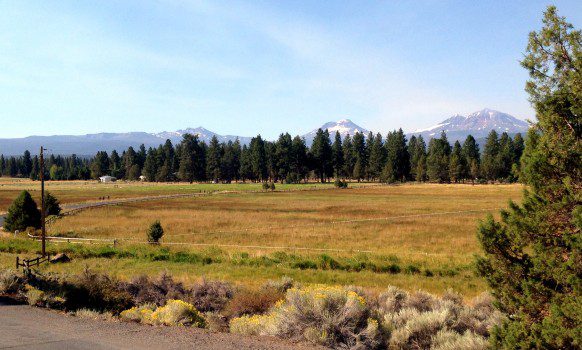 Most days, I still wake up awestruck that I get to live and work here, in a friendly little town with a view of the Cascade Mountains of Central Oregon. Pinch me, I know! Heaven on Earth. Garth and I left the central coast of California behind thirteen years ago, hoping to offer the kids a simpler lifestyle, more like what we knew growing up. Sure enough, it's a little bit Mayberry RFD, but it hasn't all been simple.
Yet now I hear my kids say they wouldn't dream of trading away the struggles and setbacks that have marked our journey because they've also marked us well–turning our ragged faith into … well, into faith that's a good bit rugged.
I'm an introvert with emergent courage, and a recovering people-pleaser. I've been learning a lot. Like how to step off the sidelines and contribute to authentic community. And how church is not a weekend event; it's a way to live and serve and grow with intentionality. Every day.
I'm the beaming-proud mother of three, and our youngest is warming up for her exit flight. And she's a survivor, having weathered a frightening auto-immune disease, Pediatric Autoimmune Neuropsychiatric Disease Associated with Streptococcus. I'm beginning to write about those dark days. Please, please, drop me an email if you ever have questions about PANDAS.
Recent a-ha! moment: when they grow up and move away, family life is just beginning. Like seeds, they're just scattering; with any luck, they multiply and return! Now we get to count our stellar son-in-law, grace-filled daughter-in-law, and adorable granddaughter (squee!) among our blessings.
For a lot of years, I designed kitchens, and even a few custom furniture pieces. I used to blog about that and some other things over at The High Desert Home Companion. Then the economy took its tumble, and I was granted an extended opportunity to rethink the second half of my life. Thank God for leveraging that setback to grow my trust, my boldness, and especially my understanding of how he wired me. So I'm trying to honor that . . . even when it freaks me out.
Now I write, and that's opened the door to some super-gratifying opportunities. Writing has become an act of obedience and a way to separate out God's lovely, assuring voice from the rest of the random chatter in my head. I managed the editorial team at Deep River Books for five years. Now my husband and I own a tea cafe, and I freelance as a book editor.
Here's the biggest thing: grace is my life blood. I won't go into all the ways the Lord has pulled me out of my self-made mud bath. But believe me, he has. My heart gushes with gratitude.
I like to record glimpses of God's glory and his genius and his grace found tucked among the mundane. It forces me to pay attention. How sweet that I can breathe this holy air day after day–inhaling his presence, exhaling a hallelujah.
But the truth is, I'm often distracted by the routine and discouraged by the repulsive, especially the ickiness in me. It's easy to forget how to breathe. So I write about that sometimes too. I don't know what the Lord has ahead for me, but I know this much today: whenever he gives me a few words that encourage someone to move from Point A to Point B, it's my favorite kind of day.
I invite you to breathe with me. Come by often! I welcome your comments!