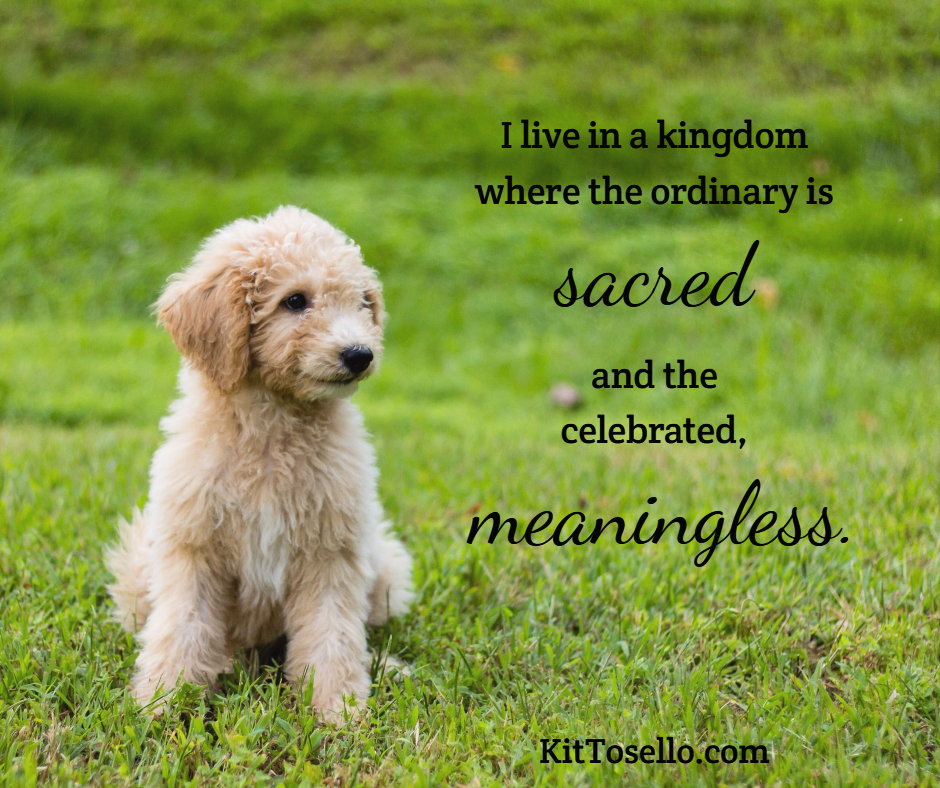 Recently I retired as a full-time mommy. In fact, I'm thinking of donating my crown to the Museum of Natural Hilarity. 😉 So now here I am, just me, alone, tapping on keys without interruption. And today the silence hangs heavy and my thoughts turn to what's next. My future, as an empty-nester.
As I transition into what I sense could be my best years yet–on a personal-growth level, I'm attracted to a less cluttered, more focused lifestyle. Mindfulness. Simplicity. Minimalism. When I type those words, they play across my heart like a piccolo or the sweet tinkling of a wind chime. Trouble is, my soul's default music station often sounds more like an ominous base drum, followed by an electric guitar solo. Plus occasional cannons.
Now that my services as an officer of the peace in our household are rarely required, my adrenal glands aren't sure what to do with themselves. The brain rewiring that took place over the last twenty-eight years feels soldered in place.
You too?
By the time our kids have flown the coop, we moms are experts at functioning in chaos, right? We could frost a cake on a bloody battlefield with bombs exploding all around, and serve it with a dazzling plastic smile. As emotional ringleader of our homes, we managed endless crises, negotiated daily conflicts, bandaged and re-bandaged hearts. It was glorious. It was messy. It was the best and hardest job we'll ever have. And now, at last, we're in the position we've dreamed about, able to reclaim some life margins–maybe even some sanity.
And I think we're all in danger.
Left to myself, I might adopt a Goldendoodle puppy (OMG, so cute, right?!), cram my social calendar, and say yes to every gleaming ministry opportunity. I could easily default to people pleasing, creating my own chaos just because it's the pace I'm used to. Another empty-nester might be tempted to pursue the life of comfort she feels she's earned. Still another might poke her nose where it's not welcome: into her adult kids' lives. Me, I'm just Recovering Chaos Girl. But the truth is, none of these diversions will fill the empties left by our kids' departure or provide the abundant life God intends.
Mindfulness is one of those buzzwords that seems trendy, but is timeless. It must be a good, enduring word; it appears a number of times in both the Old and New Testaments. We can read about how God is mindful of us, and how the Israelites displeased him when they weren't mindful of his works. Hmm. If I hope to slow down and live the last third-ish of my life on purpose–God's purpose–this seems like a pretty good place to start.
When I look at your heavens, the work of your fingers, the moon and the stars, which you have set in place, what is man that you are mindful of him, and the son of man that you care for him? (Psalm 8:3–4)
He's mindful, seeing me here in the silence of my office. He cares about my yearnings. He adores me for no other reason but that I'm his daughter. He's forever patient with me, even when I get things so wrong. Again.
I'm mindful when I remember God's faithfulness, and when I view and interact with Creation as he does: My eyes see that a thing is good; I treat it with deference and grace. When I'm present and aware and full of wonder, my heart's naturally drawn to the Creator, and worship happens.
It's astounding how, in God's kingdom, the ordinary becomes sacred and the celebrated, meaningless. In God's paradoxical kingdom, the ordinary becomes sacred and the celebrated, meaningless. Click To TweetI may not know what's next, but I know my current, future, and permanent address–his wonder-full, paradoxical kingdom. This is where I get to hang out for eternity–enjoying the sacred, ignoring the meaningless. If you're ever looking for me, this is where I hope you'll find me.
If you'd looked for me this afternoon, on this humid, 95-degree day, you'd have found me stuck in unmoving traffic next to a dry, vacant field, nondescript except for a lone Aspen tree. Its trunk was skinny and white as a stick of chalk and its coin-shaped leaves fluttered as if responding to a breeze–a breeze only it could feel. I recognized the variety as a Quaking Aspen; British Columbia is teeming with them. This tripped a memory of our Epic Family Road Trip seven summers earlier, of the night we camped by a neverending forest of those elegant, spindly trees. I started to drift off to sleep, only to bolt out of bed, panicked at what I thought was loud, rushing water outside. It had only been the rustling of umpteen-million Aspen leaves.
As the cars ahead of me started to move, I smiled, refreshed by a wave of sensations that accompanied the memory. Of family togetherness under the stars on a cool night, and how we were blissfully unaware of some painful new challenges on our horizon, which would eventually be followed by God's healing . . . and our growth. Followed by more blessings, more challenges, more growth.
I know he'll grow me through this season as well. I'll become what I behold, so I'm planning to keep my eyes and my spirit attuned to his beauty.
We catch God suddenly in the thick of our days, disclosures unraveling out of the mundane. Such awareness transforms life from a series of random events to the poetic realm of a sacred tale. –Sue Monk Kidd
A PRAYER. Inspired by Ephesians 1:
Lord, I know you see me here. Through your Spirit you're helping me better understand the vastness of your love for me, and the exquisite value of my inheritance. My pulse slows and my heart swells, and I bathe in your peace. Quiet is not a bad thing; calm is good. I don't need to fill it with white noise and busyness. Here in the stillness, you draw me to you and fill me with your fullness, equipping me to go out and be your representative among Creation.
Help me today to distinguish between things of the world and things of the Spirit. And, incidentally, I pray this for my adult kids as well.
Join the conversation! How are you filling the void in your home and heart that your kids used to occupy? Do you have a sense where God wants to lead you in this new season? I love reading your comments! 🙂
Today I'm linking up with author-blogger Holly Gerth. Be sure to visit her site!