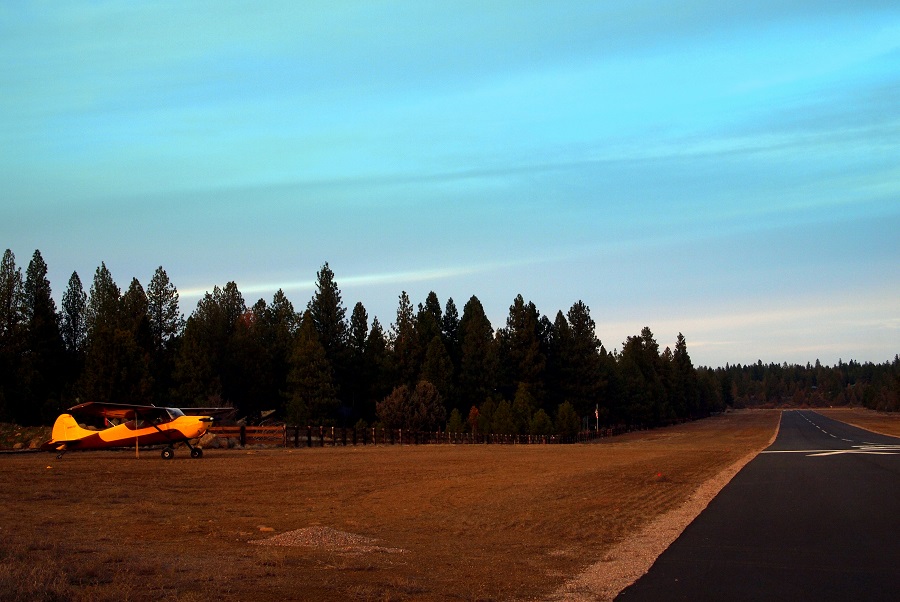 I round the corner in my walking shoes, passing our little country airport. That gold vintage airplane sits again at the tip of the runway like a lone sunflower in a dormant field.
I wonder again, Who owns that snazzy plane? and dream up a character sketch for another day.
I'm on the long, straight stretch now, where few cars pass and I can trek half a mile before coming to an intersection. And it hardly deserves to be called an intersection. More like two roads gently meeting like old friends.
My shadow's long, the sky's a thin, watery blue and I look and listen for what makes this day unique.
In the community garden, a lean woman in a khaki hat is bent over a garden bed, digging. I admire her pluck and again wish I knew more about growing vegetables here on the high desert. What's she got to do in a garden today, with spring so far off?
I pick up the pace, passing acres of sagebrush, two shaggy llamas and a few horses, as I consider what it means to take delight.
That's Garth's word for 2015, delight, and I've been trying it on for size, thinking about dumping my word choice, compassion, which has been lolling around in my mind like jello that won't set. I could use more delight. Delight is a perky verb and a serene noun. So it's decided.
Take delight in the Lord, and he will give you the desires of your heart. -Psalm 37:4
I forget a lot of things, yet have no trouble remembering criticisms leveled at me, even from decades ago. Like the time in 1988 when I waved to an acquaintance while trotting out of the fitness club. "Leaving already?" she asked. "That was fast." To which the tennis pro, who I'd taken lessons from, replied "Kit does everything fast."
Huh? It stuck with me, and while I'll never be sure exactly what he meant, 'cuz I wasn't plucky enough to ask him, that day I took note of my tendency to stay in perpetual motion. Always passing, always waving, like I'm on my way someplace more important.
Like a plane on a small-town runway, I'm great at take-offs and landings, at moving parallel to others with a quick how-do-you-do. I'm fantastic at waiting for the other person to make a friendly overture.
I thank God that he took initiative to intersect my path years ago. He overcame my rejection to pursue a relationship with me, then fell in stride next to me just as he promised, whispering guidance, encouragement, and other sweet things.
The LORD your God is with you, the Mighty Warrior who saves. He will take great delight in you. -Zephania 3:17 
For me, initiating friendship sometimes qualifies as an act of bravery. And then there's my son, so not like me, a naturally gifted extrovert even as a mop-headed toddler. I constantly had to redirect him because he was a loose cannon always engaging strangers.
To the guy installing our shower tile, it was "Whatcha doin'?" And a few seconds later, "Whatcha doin' now?"
Worse, to the chubby grocery clerk, "How come you have such fat bones?" (*gulp*)
Any other flush-faced, introverted moms out there? You're my tribe.
I'm walking back now toward the airport, about to pass the community garden. A jet's contrail stretches across the sky overhead in an ear-to-ear grin. Fringed at the bottom, like eyelashes. Smiling eyelashes.
Cheered on by my son's spirit and the sky's mirth, I veer off course toward the woman in the khaki hat. She returns my greeting in an accent I can't quite place, leans against her hoe, and seems thrilled to take a break. I learn she moved here from Czechoslovakia ten years ago, she's lining her garden bed with gopher wire, last year the gophers were a great nuisance, and I'm welcome to join the next gathering of the garden club to talk tomatoes.
I head home feeling a little lighter, a little braver. A little more delighted.
I'd love to know… How have you intentionally strayed from your comfort zone lately? Did it bring you delight?