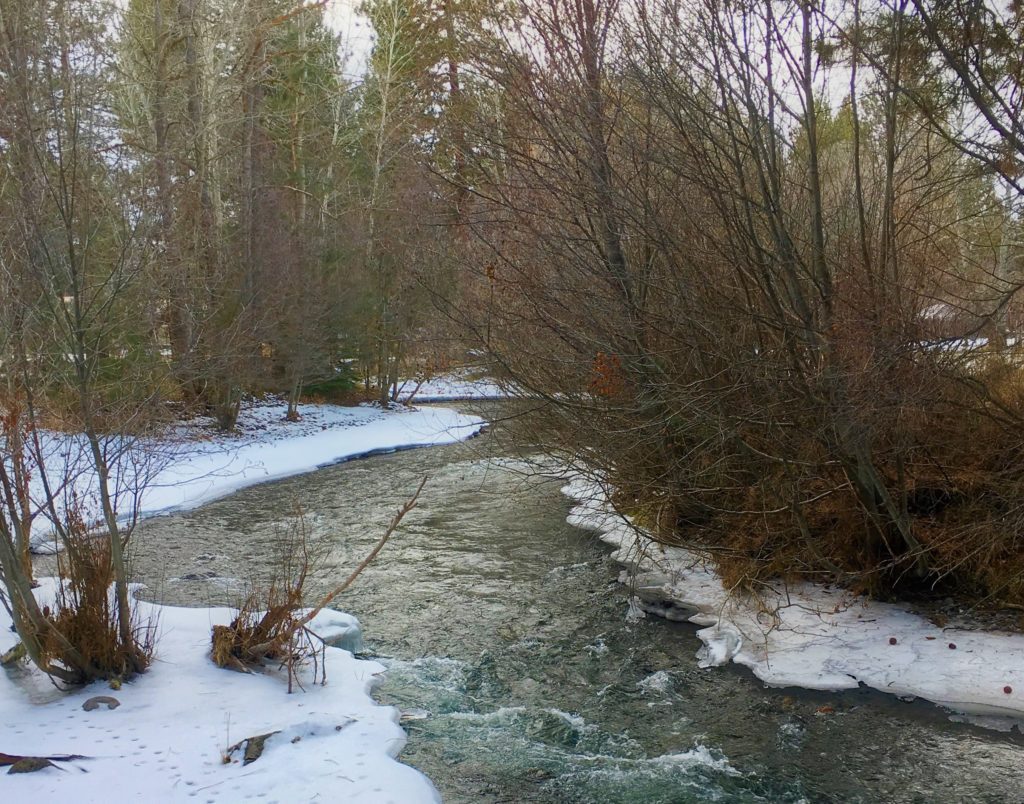 Last week as I closed the chapter titled 2017, I clearly remembered its mayhem. But could I also remember its miracles? Could you?
If next December 31st you were able to recall 52 blessings from the year, how would that change your perspective, deepen your faith? Hold that thought.
Happy flu year, read my friend's Instagram caption. Above it, a selfie with a thermometer hanging from his mouth. Sounds about right. This first week of January felt more like a sharp detour than the bold new beginning I envisioned. Prolly shoulda seen that coming.
If there's one thing I can count on in the year ahead, it's that once again I won't have as much control over my circumstances as I expect.
But wait, Psalm 46 reminds me there's so much more I can bank on.
There is a river whose streams make glad the city of God,
    the holy habitation of the Most High.
God is in the midst of her; she shall not be moved;
    God will help her when morning dawns.
The nations rage, the kingdoms totter;
    he utters his voice, the earth melts.
The Lord of hosts is with us;
    the God of Jacob is our fortress. 
I don't need to wrest away from God control over any aspect of my life, or the world beyond me; He is so other, so vast, so all-seeing, mighty, and just. I only have to rest, knowing his plans, his sovereignty, his faithfulness, and his grace are rock-solid. He's still firmly in his place of power, unchanging. Rest, not wrest.
And here we have the word river as a metaphor for the continual outpouring of God's sweet, sustaining blessings.
You and I will be blessed this year. Again and again, like water flowing over stones in a river.
You and I will be blessed this year. Again and again, like water flowing over stones in a river. Click To Tweet
I couldn't stop Garth and Chelsea from getting slammed with the winter gunk. I had no choice but cover their shifts, in addition to mine, at the tea shop. With my last scraps of energy, I didn't write, exercise, or undress the Christmas tree as planned; instead, I sanitized doorknobs, made soup and several late-night excursions for NyQuil.
Maybe God giggles or maybe he just sighs over my lofty plans and ill-fated to-do lists. And yet he blessed me this week; oh, but he blessed me!
Late in the week, my high school bestie, Sharon, and her hubby came to town on a whirlwind house-hunting mission. In the midst of their real estate tour, she told her agent (who knows our relationship) she needed to pop in and visit me at the tea shop for only two minutes. To which he chided, "Can you really do that?" She couldn't, and I'm equally to blame, cuz girls gotta gab and we had some catching up to do.
By Friday evening Garth had recovered enough to submit to being propped up in a chair, so we let our friends treat us to a swoon-worthy meal at a white-tablecloth restaurant. The blessings of friendship and laughter warmed us like oven-fresh bread during a week that would've otherwise felt half-baked.
Like a handful of living water drawn from the river whose streams make glad the city of God.
I have another friend, Mikee, to thank for the idea of writing down 52 blessings this year–one for each week. And I've started by recording my friends' visit on a one-page journaling sheet I created. Next week, I'll write down another–and so on, while they're still fresh in my mind and heart.
Would you like to join me?
If you're a regular subscriber to my blog, this 52 Blessings Log is already on its way to your inbox as a New Year's gift! Easily prints onto a sheet of 8.5 x 11 paper. Just tuck it inside your journal or Bible, and start a new practice of reflecting, preferably at the same time-ish each week.
If you're new here and you'd like to download it, simply follow this link. 
Also, if you're so moved, let's light up Instagram with the hashtag #my52blessings to share, remind, and encourage each other. You can follow me here.
And finally, I'd love to hear from you in the comments below! What blessed you this week? It could be as simple as an unexpectedly quiet morning when your littles slept late, a kind word from a stranger, or a special find at a thrift store. But isn't it all worth remembering?
Today I'm linking up with these other writers of hope: Jennifer Dukes Lee, author of The Happiness Project, and Holley Gerth, author of You're Already Amazing and Fiercehearted.